Everyone nowadays wants glowing and spotless skin. We fall into the trap of commercial fairness creams and ton of other beauty products but let me very clear the commercial beauty products are laden with chemicals that might get your skin glowing for short time but not in the longer run. So you should take  Fruit Juices for Fair Skin.
Straightaway coming to the main point. Everyone loves fruits. I mean who doesn't? As eating fruits can keep you healthy inside but it can keep you healthy outside as well. Fruits juices can give you the glow which you have been dreaming of. For example, you can have grape juice, black grape juice, juice and as well as vegetable juice.
Fruits and vegetables have fiber in them. The essential nutrients eliminate harmful toxins from the body which generally messes with the glow and healthy skin. Fruit juices also contain antioxidants.
Without further wasting time I would try to give as much knowledge I could about fruit juices for getting fair complexion.
Fruit Juices for Fair Complexion:
Mentioning below some best juices.
Tomato juice:
Tomato juice contains an abundance of antioxidants. Which Fruit Juice is Best for Skin Whitening and is packed with Vitamin C, Vitamin A, and Lycopene. It is also a great source of Vitamin C and Vitamin K. Tomato contains citric acid which helps in producing energy. The acid helps in reducing tan, as bleaching agents prevent skin discoloration and thus enhances your skin with a glow. You can either directly apply tomatoes to your skin or drink it's juice almost every day.
Time to Consume:
Early morning consumption of tomato is the most ideal.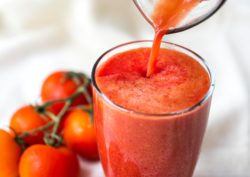 Grape juice:
Grapes are abundant in Vitamin C and K. It contains a high amount of antioxidants too. Grape juice helps to revitalize your skin giving it a supple effect. It reduces wrinkles, helps in retaining skin elasticity and reduces dark spots. Grapes can reduce the harmful effects caused by your skin due to UV rays. It also reduces skin pigmentation.
Time to Consume:
Grapes contain Melatonin which is a sleep-regulating hormone thus regulating your sleep-wake cycle. Frozen grapes are great snacks for the night.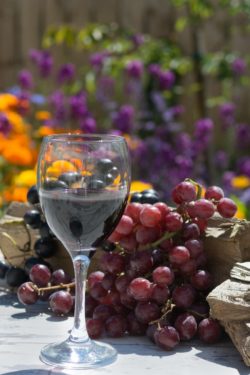 Orange juice:
Oranges always stand out in lightening your skin tone as it is abundant in Vitamin C which eventually helps in giving lighter tone. Melanin is a skin pigment whose over secretion can give you a dark skin but orange juice reduces the effect of melanin thus giving you the skin tone you desired for. You can use oranges as a face pack which is really effective. You need orange juice for skin lightening and reduces tan in your skin and also reduces excess oil thus giving you a radiant glow.
Time to Consume:
You can have it early in the morning in the empty stomach which will be more effective.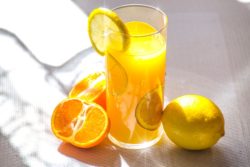 Mango juice:
Mango revitalizes, cleans and makes your skin smooth and supple. Mango has an abundance of Vitamin A which lends a helping hand to keep our skin supple and flawless. Mango juice, when rubbed on fair, lightens the skin tone and helps in glowing skin. Mangoes, when rubbed on the skin, clear pores and prevents breakouts. It prevents acne and pimples. It also contains Vitamin K which helps in antiaging. So daily you should take Fruit Juices for Fair Skin.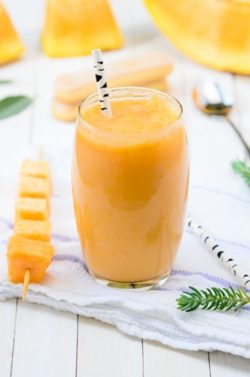 Time to Consume:
Moderate mango consumption is recommended. Consume it before lunch it will help the body to absorb its essential nutrients.
Pomegranate juice:
Pomegranate contains Vitamin A and C and a good amount of antioxidants. It helps in reducing hyperpigmentation, skin tan, removes dark spots and thus making your skin fair and glowing. Homemade packs of pomegranate with lime and make your skin fair and giving a radiant glow.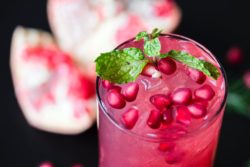 Time to Consume:
Opt for drinking pomegranate juice almost every day as it will enhance your skin tone with ease. And also it will be a feast to your taste buds.